[WEBINAR SERIES] No-Till and Cover Crop Implementation Online Education Program
August 3, 2020
-
September 2, 2020

[WEBINAR SERIES] No-Till and Cover Crop Implementation Online Education Program
August 3, 2020
–
September 2, 2020
EDT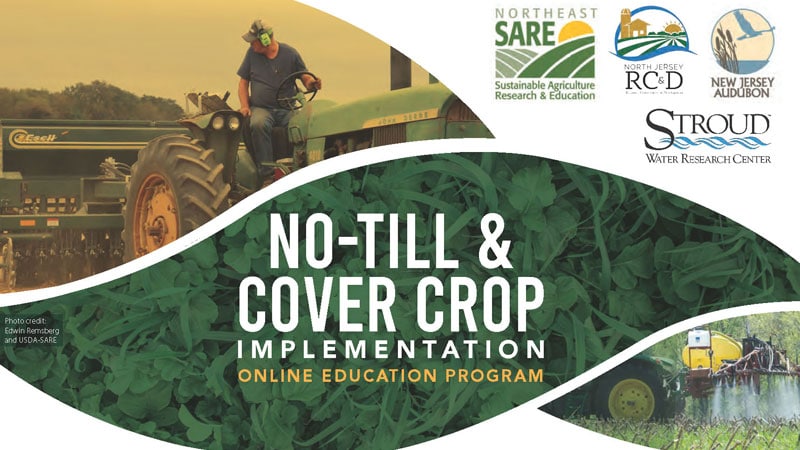 When: Once a week for five weeks during August and early September from 9:00 to 10:30 a.m. See list of dates below.
Where: Online.
Audience: The training is designed for staff of NRCS, FSA, soil conservation districts, extension, and non-profits involved in agricultural conservation. It is also appropriate for the private agricultural sector staff including seed and chemical dealers, crop advisers, and custom operators.
Cost: This program is being offered free of charge thanks to the generous support of the USDA Northeast Sustainable Agriculture, Research and Development Grant. Comprehensive course manual included. Space is limited; registration closes July 15, 2020.
North Jersey Resource Conservation & Development, in partnership with New Jersey Audubon and Stroud Water Research Center, has created a comprehensive No-Till and Cover Crop Online Education Program.
We are inviting public, private, and non-profit agricultural service providers to participate in a five-part, interactive, webinar training series emphasizing no-till and cover crop implementation that will train agricultural service providers to better support farmers who are preparing for and implementing in-field soil health practices.
Topics include:
Steps farmers should take to prepare for no-till.
Different types of no-till equipment and attachments.
Nutrient management in a no-till setting.
Practical cover crop seed selection tips.
Cover crop application methods for every crop system.
Cover crop termination techniques.
Webinars will occur once a week for five weeks during August, and early September from 9:00 to 10:30 am. To keep group sizes small and encourage a more regional dialog, each workshop will be offered three times each week. Each day of the week will emphasize a different region with different soils, climate, and crops.
Participants will be eligible for Maryland and Pennsylvania Nutrient Management CECs and Certified Crop Advisor CEUs*. In addition, all participants will receive a copy of the newly released book, "A Practical Guide to No-Till and Cover Crop."
Details
Start:

August 3, 2020

End:

September 2, 2020

Event Category:

Event Tags: