Return of the STREAM Girls!
November 14, 2021, 6:00 PM
-
8:00 PM
EST
Free

Return of the STREAM Girls!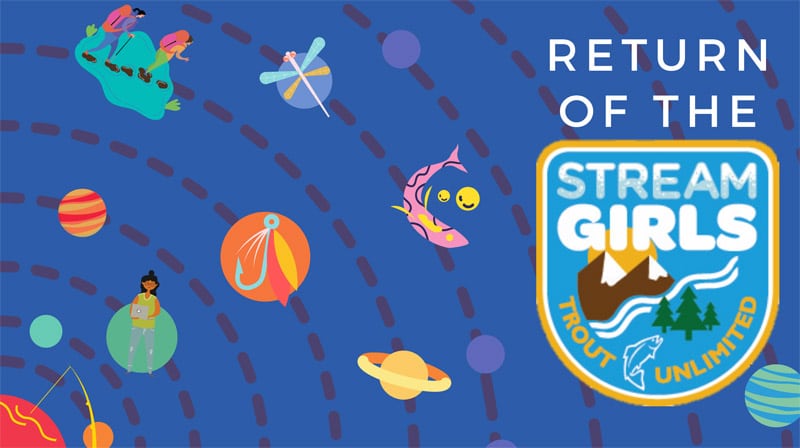 Virtual Program for Previous STREAM Girls Program Participants
When: Sunday, November 14, 2021, 6-8 p.m. ET or Wednesday, November 17, 2021, 6-8 p.m. ET.

The Wednesday program has been CANCELED due to low interest in the weekday program option. The program will only be offered on Sunday.

Where: Zoom. Link will be provided following registration.
Cost: FREE. Includes a small swag bag and 2-hour virtual Zoom program. Registration required!
Program audience: Youth of all ages who participated in a STREAM Girls program anywhere in Pennsylvania prior to November 2021. This includes programs led by Stroud Water Research Center, Allegheny Land Trust, and/or various chapters of Trout Unlimited in all regions of the state.
Since 2019, more than 100 elementary and middle school youth across Pennsylvania have participated in Trout Unlimited STREAM Girls, a hands-on watershed experience that combines science, technology, engineering, and math (STEM) with art and recreation to empower today's girls to become tomorrow's leaders in STREAM! Now, Stroud Water Research Center and Trout Unlimited are bringing the STREAM to the screen during Return of the STREAM Girls, FREE virtual evenings for tweens and teens who previously participated in any STREAM Girls program anywhere in Pennsylvania!
Virtually hang out with fellow STREAM Girls across the state and over the screen during hands-on activities, a live panel with female-identifying professionals in STREAM, new resources to hit the water near you (fly-fishing and fly-tying), and tips/tricks on being a STREAM trailblazer in your local community! All participants will be mailed a small "swag bag" of educational and recreational giveaways. The first 60 youth to register and attend will receive a special STREAM Girls bucket hat.
NOTE: Adults and youth should complete the same registration form. Youth who register after November 9, 2021, are not guaranteed to receive their swag bag before the November 14 program date.
Participants should plan to connect from a device with audiovisual capacity and an internal microphone (e.g., a laptop or iPad). Mobile devices are not recommended for the most engaging possible experience.
Please note: Return of the STREAM Girls is open exclusively to youth who participated in a STREAM Girls or STREAM Keepers program anywhere in Pennsylvania before November 14, 2021. This program is not designed for youth who have not yet participated in STREAM Girls or STREAM Keepers.

Questions? Email Watershed Education Specialist Mandy Nix.