Slimy Leaves for Healthy Streams: A Training in the Leaf Pack Network
October 21, 9:30 AM
-
3:00 PM
EDT
Free

Slimy Leaves for Healthy Streams: A Training in the Leaf Pack Network
October 21
,
9:30 AM
–
3:00 PM
EDT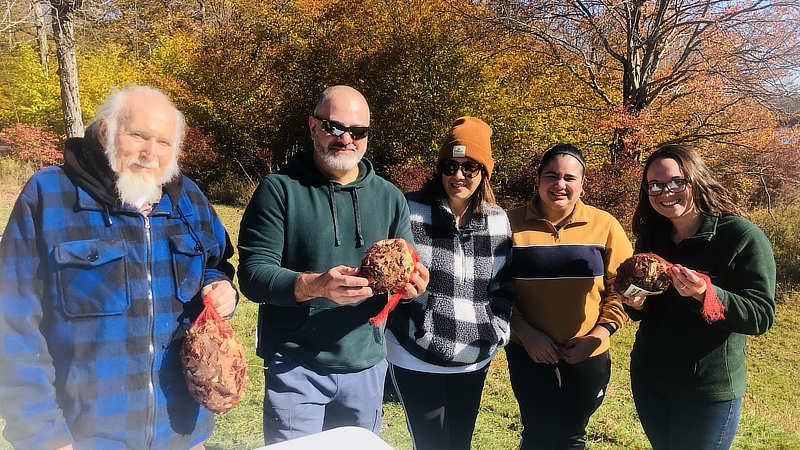 When: Saturday, October 21, 2023 from 9:30 a.m. to 3 p.m.
Where: Stroud Water Research Center, 970 Spencer Road, Avondale, PA 19311
Audience: Middle and high school teachers, environmental educators, and anyone interested in community science.
Cost: Free! Registration is required, see instructions below. Bring your own lunch.
How Can Clumps of Slimy Leaves Spark Stream Exploration?
The Leaf Pack Network® is a fun, hands-on research and outreach tool for people of all ages that demonstrates how our actions on land impact life in streams and water quality. The Leaf Pack Network promotes inquiry-based interdisciplinary watershed education and engages diverse audiences in conducting their own experiments, gathering relevant ecological data, exploring food webs, learning classification skills, using technology to share data, comparing data with those of other communities and applying that information to protect local watersheds.
Join us at our workshop and we'll show you how!
Participants will receive an overview of stream ecology and watershed concepts based on research done at Stroud™ Water Research Center. Taking our boots to the stream, we'll experience hands-on examination of leaf packs with live aquatic macroinvertebrates, including their identification, and take a look at the Leaf Pack Network website.
At the workshop you will receive:
Leaf Pack Stream Ecology Kit give-a ways!
Tour of the Stroud Center's research labs and LEED-Platinum certified building
Hands-on experience deploying and retrieving leaf packs from the stream
Training in macroinvertebrate ID
FUN teaching techniques to bring to your classes!
Certificate of participation (volunteer hours or towards teacher professional development credits)
Stroud Water Research Center
970 Spencer Road




Avondale

,

PA

19311

United States
+ Google Map