The Water's Edge Gala and Presentation of the Stroud Award for Freshwater Excellence
November 3, 2022, 6:00 PM
-
9:00 PM
EDT

The Water's Edge Gala and Presentation of the Stroud Award for Freshwater Excellence
November 3, 2022
,
6:00 PM
–
9:00 PM
EDT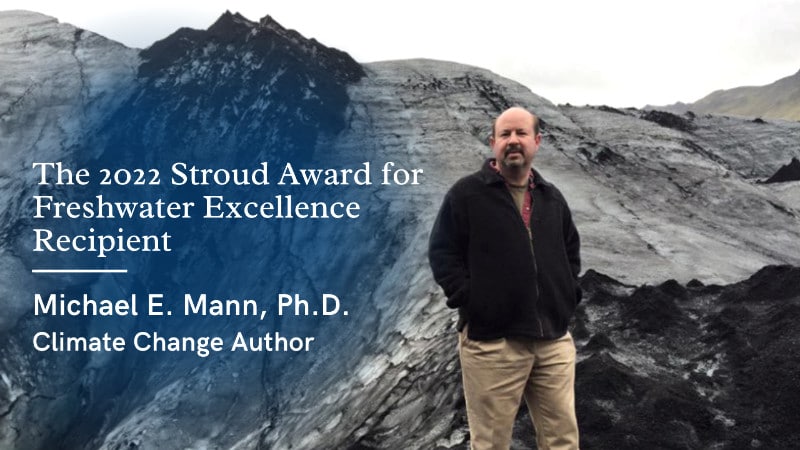 The Water's Edge gala brings together business leaders in the community, supporters of Stroud™ Water Research Center, and experts in the world of fresh water. During this event, we recognize an individual or organization who has made invaluable contributions to the world of fresh water by awarding them with the Stroud Award for Freshwater Excellence. The 2022 SAFE Award will be presented to Michael E. Mann, Ph.D., climate change author, Presidential Distinguished Professor at the University of Pennsylvania, and Director of Penn Center for Science, Sustainability, and the Media.
Date and time: Thursday, November 3, 2022. 6:00 p.m., registration and cocktails; 7:00 p.m., lecture and award presentation; 7:45 p.m. dinner.
Location: Delaware Museum of Nature & Science, 4840 Kennett Pike, Wilmington, DE 19807.
This event is the Stroud Center's primary fundraiser, since all others are low to no-cost events. As such, it is vital to the Stroud Center's mission.
Previous speakers and award winners have included luminaries such as Jane Goodall, Olivia Newton-John & John Easterling, American Rivers and its president, Bob Irvin, His Serene Highness Prince Albert II of Monaco, Alexandra Cousteau, and Robert F. Kennedy Jr., among others.
Premiere Sponsor
Wilmington Trust

Lead Sponsors
Blue Yak Foundation
Maggie Brokaw
Brown Brothers Harriman Trust Company of Delaware, N.A.
Colonial Pipeline
Fresh Start Development Company
Moorhead Family
Carol E. Ware, Ph.D.
Key Sponsors
Franny and Franny Abbott
BNY Mellon Wealth Management
Amy Ruth Borun
Brown Advisory
Mr. and Mrs. Michael Bucklin
Phoebe Driscoll
Ephrata National Bank
Fair Play Foundation
Glatfelter Insurance Group
The Hankin Group
James S. Herr Family Foundation
Johnston Family Trust
Mr. and Mrs. Michael Matz
Mr. and Mrs. Michael Moran
W.A. Speakman Family Foundation
Mr. and Mrs. Morris Stroud II
Mr. and Mrs. Stephen Stroud
Scott and Barbara Wisman
The 2022 Stroud Award for Freshwater Excellence Recipient, Michael E. Mann, Ph.D.
Speaking Truth and Science About Climate Change
Michael E. Mann, Ph.D., has spent his career investigating climate change, communicating about its reality, and highlighting the politics that seek to undermine action against it.
Mann's research on climate variability and extremes has been at the forefront of climate change science. In 1999, he and his colleagues examined 1,000 years of temperature changes that produced the hockey stick graph, so named because of its pronounced upward curve. The data, which combined decades of work by paleoclimate scientists, and its stunning visual presentation served as a smoking gun in the case proving human-induced climate change.
Writing about this work, Mann has said, "Although scientific revolutions in how we see the world do occur, the bulk of our scientific understanding comes from the cumulative impact of numerous incremental studies that together paint an increasingly coherent picture of how nature works."
To share his knowledge and warn the public about climate change, he has authored more than 200 peer-reviewed and edited publications, numerous op-eds and commentaries, and five books. His most recent work, The New Climate War: The Fight to Take Back Our Planet, examines the 30-year campaign launched by fossil fuel companies to delay action on climate change and offers a battle plan for how to save the planet.
November 3, 2022
,
6:00 PM
–
9:00 PM
EDT
Delaware Museum of Nature & Science
4840 Kennett Pike




Wilmington

,

Delaware

19807

United States
+ Google Map