[Virtual Educator Workshop] Wild and Scenic Rivers in the Face of Climate Change: An Immersion in White Clay Creek
February 22, 2022, 6:00 PM
-
8:00 PM
EST
Free

[Virtual Educator Workshop] Wild and Scenic Rivers in the Face of Climate Change: An Immersion in White Clay Creek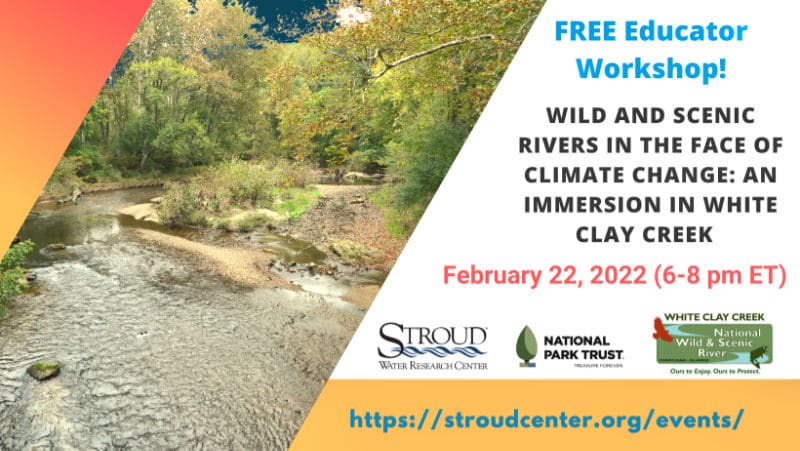 When: Tuesday, February 22, 2022, 6–8 p.m. EST
Where: Online via Zoom video conferencing. The connection link will be emailed prior to the event.
Audience: This online session is open to homeschool providers, classroom teachers, and non-formal environmental educators. Two hours of Act 48 are available for Pennsylvania Certified Teachers. A certificate of participation will be provided for teachers outside of Pennsylvania.
Cost: Free.
Evaporating water sources, wildlife die-offs, deepening droughts, intensifying storms and flooding.
The profound impacts climate change is wreaking on our freshwater systems threaten every person and ecosystem in our country.
Healthy rivers are our best defense.
–American Rivers
Climate change is striking our rivers first and hardest. This educator professional development workshop will focus on tools, resources, and ideas that pertain to climate change impacts and how to improve our choices around freshwater resources while focusing on a very special place on the planet, White Clay Creek watershed.
White Clay Creek has a unique status of being a National Wild and Scenic River, the first to be protected on a watershed basis. Flowing through parts of Chester County, Pennsylvania, and New Castle County, Delaware, the watershed faces threats that affect all of us. With outstanding resource values in recreation, geology, wildlife, history, and culture, White Clay Creek is a perfect example for educators to bring place-based learning into their lessons that promote and support the protection and restoration of these resources.
Special guest speakers include Shane Morgan, White Clay Creek management plan coordinator, who will take us on a virtual tour and share the beauty and needs of the watershed as well as the opportunities to connect to a very special waterway. Sharing existing regional science, Marc Peipoch, Ph.D., an ecosystem ecologist at Stroud Water Research Center, will bring us into an awareness and understanding of climate impacts with an update on the status of freshwater systems. Tara Muenz, assistant director of education at the Stroud Center, will then lead us into a set of hands-on/mind-on activities you can use with groups to start the conversation about climate resiliency in freshwater systems through the lens of aquatic macroinvertebrates!
What more could you ask for? Jump on in and join us in February 2022! Questions? Please email Tara Muenz (co-instructor of workshop).
Presented in partnership with: