Stroud Water Research Center offers programs year-round for Girl Scout and Boy Scout groups. Your den, pack, or troop will learn about stream and watershed health through fun, hands-on educational activities while earning a unique Stroud Center activity patch.
Available Programs
Day and overnight programs are available. Overnight programs include leave-no-trace camping in our experimental watershed or a night in our research facility's meeting house, followed by more activities the next day.
Programs can simply be for fun with watershed science or to complete Scout adventures, merit badges, awards, journeys, advancement, or service requirements. Example programs include:
Boots-in-the-water stream studies for scouts of all ages (may include collecting and identifying aquatic macroinvertebrates, water chemistry experiments, stream habitat assessments, and/or night hikes with electrofishing for freshwater eels [limited to only a few per year]).
Service projects including planting and monitoring of riparian forests.
Girl Scouts: the WOW: Wonders of Water Journey for Brownies.
Cub Scouts: Science Everywhere STEM Nova Award.
Boy Scouts: Soil & Water Conservation, Fish & Wildlife, and Environmental Science merit badges.
Questions? Email scoutprograms@stroudcenter.org.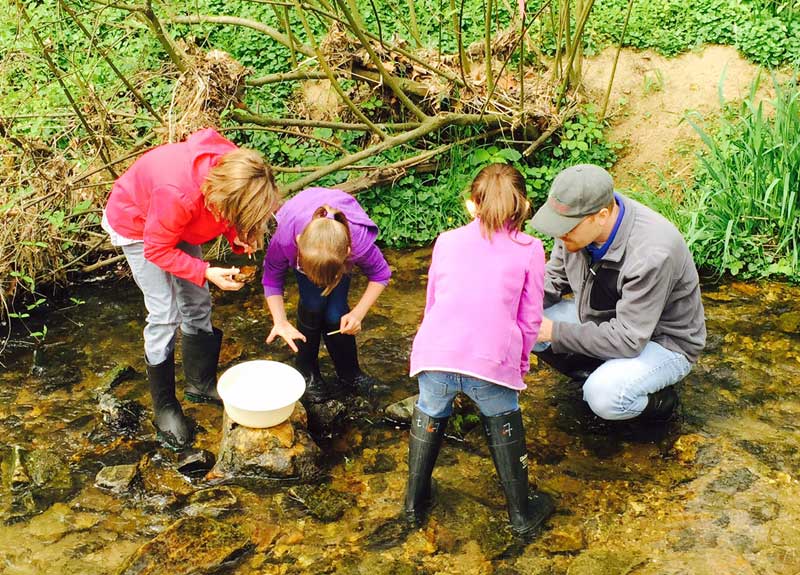 Thomas P. Bentley Muddy Boots Fund
The Stroud Center and Chester County Council, BSA, thank Greg, Keith, and Ray Bentley for their generous support and creation of the Thomas P. Bentley Muddy Boots Fund. With this support, all programs with Chester County Council, BSA, units are free (after a fully refundable program reservation fee).
What People Are Saying About Our Scout Programs
"We got to put on big boots and play in the stream to collect aquatic insects, and then use microscopes to help identify them. What kid doesn't like to play in a stream and turn over rocks?" — Scott Heath, Pack 216 Cubmaster
"I loved getting critters from the East Branch of White Clay Creek. I liked finding them under rocks and leaves and learning all their names … I learned a lot from that!" — Sarah, age 7
"Knowing what makes fresh water good for fish and aquatic insects helps you protect the water because a lot of plants, insects, and animals depend on healthy water." — Zach, age 9
"I just really appreciate all the Stroud Center did for our Cub Scout program. My son was quite happy with the experience, and months later, he still talks about things we learned there when we are hiking." — Philip Grant, Cub Scout Wolf Den Leader
"The Stroud Center really takes studying water and soil seriously. We were able to hike around the forest and go on an entire outing to study how soil connects to water." — Danny, Age 11
"The Stroud Center's education team has done an amazing job with delivering programs. We are delighted that our Scouting membership is taking full advantage of this great program opportunity." — Richard Curth, Chester County Council, Boy Scouts of America
Stroud Center Scout News